3D Printing Services: SLA & SLS & SLM
3D Printing Services China: Welink provides SLA/SLS/SLM 3D Printing Services to print ABS, PA or Steel parts to global clients. We have 50+ SLA printers, 20+ SLS printers, and 5+ SLM printers that all with industrial precision tolerance. These printers make 3D printed prototypes or low volume production for global clients. Price is better than Europe and US. Since Oct, 2019, Color 3D Printing service is provided by WeLink. Go 3D Printing projects with WeLink today!
Capacity of 3D Printing Services
– Technology: SLA, SLS, SLM
– Lead time: 1-3 days
SLA: 50+ sets of printers, tolerance +/- 0.05, material ABS like, natural color: white, yellow-white, transparent. MAX printing size: 1500x800x500mm
SLS: 10+ sets of printers, tolerance +/- 0.10, material PA6, PA66, PA11, PA12, PA2200. natural color: white, black, gray. MAX printing size: 400x300x200mm
SLM: 5 sets of printers, tolerance +/- 0.10, material stainless steel, aluminum. natural color, gray. MAX printing size: 350x300x200mm
Color 3D Printing Services
Since Otc 2019, WeLink brings in Jet Fusion 500/300 Color 3D Printers to strengthen our printing services. These new printers provide more color options for designers and reduce the lead time by cutting painting process which ususlly takes 1-2 days in normal 3D printing.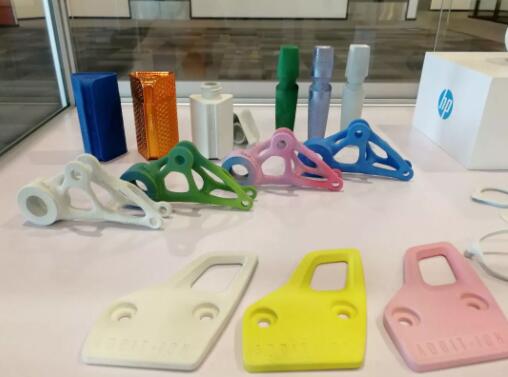 How SLA 3D Printing Works
What is SLA 3D Printing?
Stereolithography – more commonly referred to as SLA 3D printing – is one of the most popular and widespread techniques in the world of additive manufacturing. It works by using a high-powered laser to harden liquid resin that is contained in a reservoir to create the desired 3D shape. In a nutshell, this process converts photosensitive liquid into 3D solid plastics in a layer-by-layer fashion using a low-power laser and photopolymerization.

How SLS 3D Printing Works
What is SLS 3D Printing?
SLS is short for Selective Laser Sintering. SLS 3D printers use a high power laser to fuse small particles of polymer powder. Selective laser sintering (SLS) is an additive manufacturing (AM) technology that uses a laser to sinter powdered plastic material into a solid structure based on a 3D model. SLS 3D printing has been a popular choice for engineers in product development for decades. Low cost per part, high productivity, and established materials make the technology ideal for a range of applications from rapid prototyping to small batch or bridge manufacturing